Colourful is the new black
Curwoods invite the Jersey community to redecorate our Daimler hearse with a colourful and imaginative design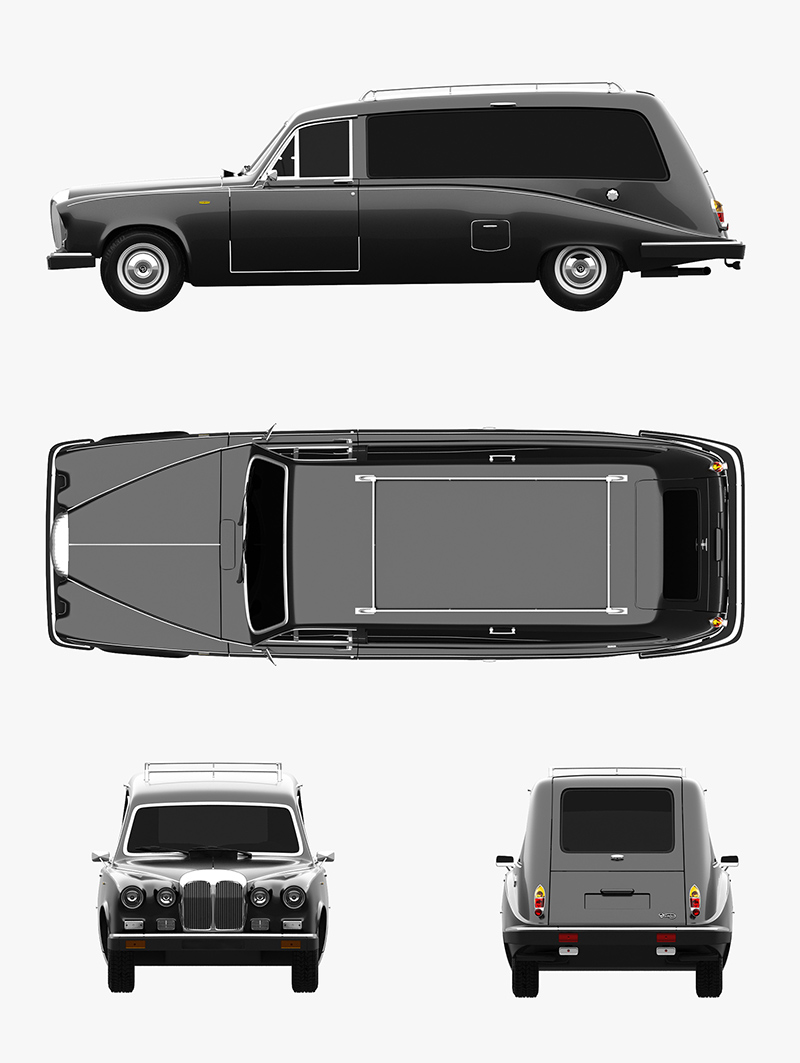 Curwoods Limousines – Jersey's oldest limousine company has partnered with Maillards Funeral Directors to run a new design competition that's a first of its kind in Jersey.
'Colourful is the new black' is inviting both professional and budding artists or designers of any creative medium to create a design to be applied to the Daimler hearse which will form part of the Curwoods funeral fleet.
The competition is open to anyone of any age living in Jersey. Curwoods Limousines is encouraging artists to be as creative as they wish with the only requirement being that it must encompass a theme of 'Celebrating Life'. In January a winner will be announced. The lucky winner will pocket themselves £500 in cash and have their design applied to the outside of the hearse.
Nevil Smith, Operations Director at Curwoods Limousines said:
"Some families have said they don't want a black hearse for their loved one's funeral. Curwoods has listened to the requests of our clients and we would like to offer something different for families who have lost a loved one. We still have our collection of traditional hearses as well as a new modern Jaguar fleet of vehicles. The new design for our hearse will form part of our fleet of over fifteen vehicles. Curwoods has been a part of the Jersey community for 128 years so it was a natural fit to invite the people of Jersey to create a new design for our hearse."
Julian De La Cour, Managing Director at Maillards Funeral Directors said:
"Maillards Funeral Directors is delighted to partner with Curwoods Limousines and be part of their innovative idea. Our involvement in the competition forms part of the Maillards Celebrating Life Project a new initiative which will see Maillards sponsor and support various local people and causes in 2021. The purpose of the project is to help islanders celebrate their life, no matter their age. We understand death can be difficult to discuss but want to highlight that as funeral directors our role is to celebrate someone's life. Every person is unique so we believe that every funeral should be too."
Please submit your details and upload your design below. Closing date for entries is 28th February 2021 at midnight. For all competition enquiries please contact [email protected].
Upload your artwork, design or sketch
Please upload JPG, PNG or PDF files no larger than 20Mb
All data processed will be done so in accordance with the data protection (Jersey) Law 2018
and only for the purpose of the competition. Data will be destroyed appropriately on 28th February 2021.
Terms and Conditions
The promoter of the competition is Curwoods Limousines, whose registered address is 46, Rogue Bouillon, St. Helier, Jersey, JE2 3ZA.
Route to entry for the competition and details of how to enter are listed on this website via www.elmegroup.com/community.
An entrant's design should embrace the theme of Celebrating Life and is to be as creative as possible.
The design is to be used as a re-skin to the outside of our existing Daimler hearse only.
The design must not cover any windows or impair the safety of the vehicle.
The competition is open to residents of Jersey (Channel Islands) of any age, excluding Curwoods Limousines employees and employees' families.
Entrants under the age of 18 to enter with parents' permission.
Only one entry will be accepted per person. Multiple entries from the same person will be disqualified.
No responsibility can be accepted for entries not received for whatever reason.
There is no entry fee or purchase necessary to enter this competition.
The winner agrees to being quoted, named, photographed and interviewed for marketing and promotional purposes.
The winner agrees to Curwoods Limousines using their name, photograph and design to promote the brand on their website and social media channels.
The closing date for entry will be 14th February 2021 at midnight. After this date no further entries to the competition will be permitted.
One winner will be chosen by the Curwoods Limousines Senior Leadership Team and notified by 28th February 2021.
The winner's name, photograph and design will be announced on the Curwoods Limousines website and social media channels within 7 days of being notified.
The decision of Curwoods Limousines is final.
The winner will receive £500 in cash by 28th February, to be collected in person at Curwoods Limousines registered office: 46, Rogue Bouillon, St Helier, Jersey, JE2 3ZA.
An alternative winner will be selected if we do not receive a response from an individual winner within 7 days of notification.
Entrants agree to their data being held by Curwoods Limousines until it is destroyed on 28th February 2021.
Entrants agree to be contacted by telephone or email by Curwoods Limousines for the purpose of the competition.
By entering this competition, an entrant is indicating his/her agreement to be bound by these terms and conditions.